Sex Education season 3 has been officially launched on 17 September 2021 on most popular movie & Tv shows streaming Platform Netflix. As much as you enjoy season 1 & 2, Season 3 will not disappoint you either. Something new, something interesting with lots of amazing comedy. So here is the complete honest review of sex education season 3. 
Sex Education Season 3 trailer 
Trailer of sex education season 3 has been already released on 7 September on YouTube. With worldwide crazy fans and teen comedy tv shows it is winning everyone's hearts. With trailer you got the idea that school is going to change, new Dean of school is appointed and Her mission is to make it sex free school. So here is the trailer you can watch if you haven't yet before  watching the episodes. 
How many episodes does season 3 have?
Sex Education Season 3 has total 8 episode between 55 mins to 1hr. As in previous 2 seasons this season has nothing changed with length of episodes or number of episodes too. Not wasting more time, let's get on with the review. 
Sex Education Season 3 Story ( Spoilers )
It starts with everyone enjoying their life, having casual sex with each other. Little shocking thing is Otis Hanging out with Ruby ( Casual Sex Only ). Maeve also spends time with isaac as a friend. The new semester starts the next day. From very next day a new Dean appointment that aim to change the identity of school that being spread through media and books " Sex-School ". 
Eric and Adam date each other, Maeve did not receive messages from Otis as Isaac Delete them. Otis thought she didn't want him back in her life as she hadn't responded to his text. As school being there are alot of things goes one, skipping the fun part just back to school… Otis and Ruby date each other, Otis' mother Jean is pregnant and Otis convinces her to tell Jakob about the baby. By the end of episode 4. Otis and Ruby had a fight since tiny started loving Otis and said to him " I LOVE YOU " In reply he said " THAT'S NICE " Which made her insecure.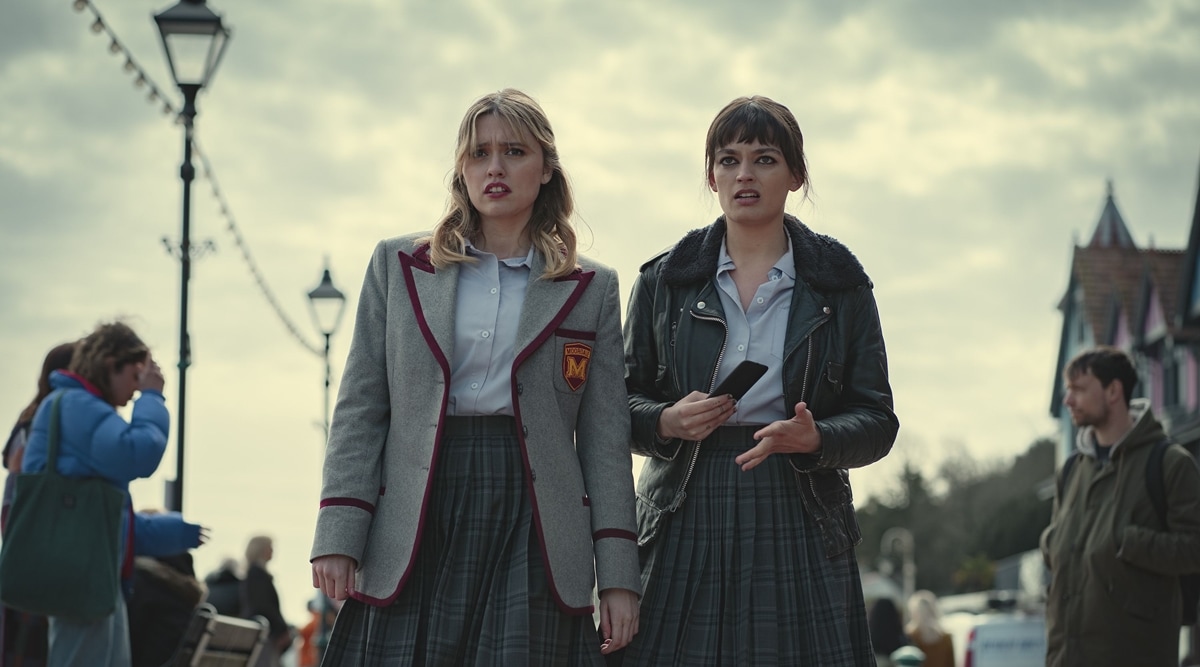 In the starting of episode 5, the school goes for a trip. Meave can't afford the fees of the school trip but he gets to know her fees are already paid. She thinks it's done by Issac and she starts liking Issac and dates him. Otis and Ruby are struggling with their relationship. Jean and Jakob living in Otis' house include ola. Adam's dad has been kicked out from his house and he was searching for jobs everywhere and living with his brother.
Before the trip , Isaac told Maeve the truth about Otis and his massage and during the school trip Eric went to attend a wedding. Adam and Rahim start becoming friends. Full of comedy school trips Otis and Maeve miss their bus and they get the time to talk. When teacher's realise
that meave is missing they go back to where they stopped before. Meanwhile Otis and Maeve talk to each other and kiss. While they were kissing, the bus arrived and Ruby saw them and it's official break up between Ruby and Otis.
Things got complicated as the story went on. The Dean is trying to change the school and teaching things like sex is dangerous for teens, making dress code, painting walls and being strict. Things getting complicated in school, the freedom of students had been stolen from them. Dean divide the Girls and Boys group and teach them Different things during sex education curriculum. In between we saw the dean of the school also facing fertility issues in her life.
She has been trying to get pregnant for the past 3 years but can't get results. The Dean is trying to make a new school in front of the media and investors. But students are done with the drama and restrictions. In the 7th episode students put their voice in front of everyone and ruin every plan of the Dean. In the end Jean got a baby girl, Eric and Adam broke up, Ammie left Steve, Ola and Lilly stayed with each other. But Maeve applied for American to study ahead and she got selected by her mother to arrange money and when Otis and maeve got together she had to go to America. 
Twisted thing was when Jean read the dna report of baby her words are " OH MY GOD" That signify that we can expect season one from one of the most loved teen comedy and education series on Netflix. 
Positive sides of Sex Education Season 3
The season shows many stories at the same moment, also it doesn't let you be bored as comedy stays on track always. Some interesting suspenseful inventions and characters are also introduced to the audience. Finally we witnessed the love story of Maeve and Otis. It also teach about myths about sex and also put views on binary persons. The complete season was full of comedy, adventure, myths about sex and today's teen & their life problems. 
Negative side of Sex Education Season 3
Sometimes they were making little chemistry that didn't match. Eric goes to Nigeria to attend a wedding where he kisses another guy he didn't even know. It's a bit of a weird story line. Also so many sad moments are also included and few of them are cringe.
Not much negative since if you like the first two seasons you won't care about these things. We really suggest you watch this season with popcorn and wine with your friends or partner. It will entertain you and make your weekends worth guaranteed.
Can we expect Sex Education Season 4 ? 
According to storyline there definitely will be a season 4, as maeve go to America for further studies and Otis' mother saw the DNA report and her words are " OH MY GOD ". It clearly tells
whether the baby girl she got is not from jakab. Also Otis and maeve love story is not completed yet so makers don't want this to not to happen. Eric and Adam also broke up which definitely was not a happy ending. So yes you can expect season 4 of sex education by the end of next year or starting of 2023. 
Last Word
Sex education season 3 won't disappoint you not either with entertainment factor, love stories, emotional scenes, and adventure. We would give 8 starts out of 10 for sex education. 2 stars cuts for not getting maeve and Otis together, just kidding. You will definitely enjoy the show so don't think too much just go and enjoy this awesome series. Have a great weekend.