You'll know there needs to be a Sex Education season 3 if you've finished Sex Education season 2. The show became a television classic, causing you to cry tears of joy and laughter one after the other.
Most importantly, the show's core protagonists, Asa Butterfield's Otis Milburn and Emma Mackey's Maeve Wiley, were unable to find a closure to their romantic storyline. Here's all we know about Season 3 of Sex Education… 
Is there a trailer for Sex Education season 3?
The show's official trailer, which was released on September 7, depicts the entire breadth of Head Teacher Haddon's school overhaul. The pupils are gently dressed in grey uniforms, travel in single-file lines, and receive abstinence-based sex education from a teacher who yells, "Sex will ruin your life!" Even while the show's will-they-won't-they coupling is still tense, it appears that Otis and Maeve will be the ones to return the school back to its sex-positive roots. 
Where did the second season of Sex Education end off?
The presentation came to a close with a slew of updates for the Moordale kids. A chlamydia outbreak wreaked havoc on the school's reputation, prompting the dismissal of head teacher Groff. Adam, a former bully, publicly declared his love for Eric. Jean forgiven Otis for being an illegal sex therapist, only to find out she was pregnant by her ex-boyfriend Jakob. Maeve reported her drug-addicted mother to the authorities. Otis sought to express his love to Maeve after splitting up with Ola and having a one-night fling with queen bee Ruby, but was foiled by Maeve's new friend Issac.
What will happen in season 3 of Sex Education?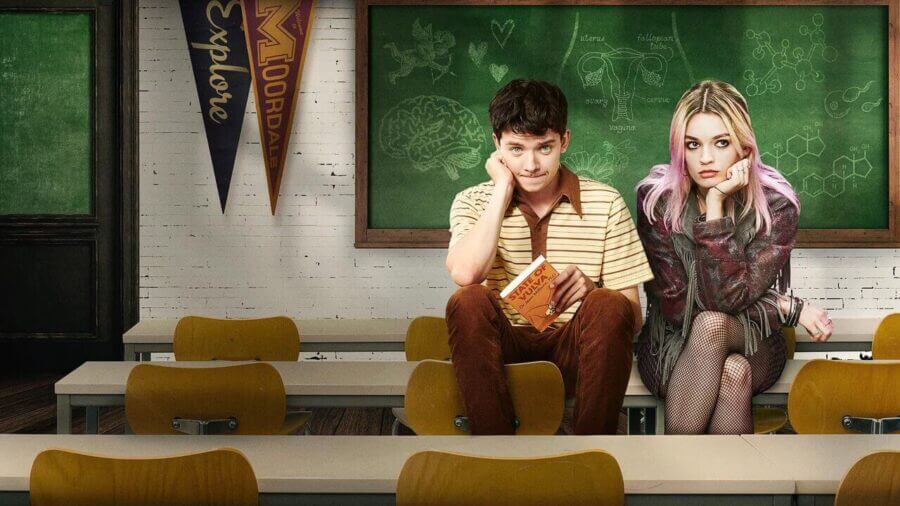 Season 3 will begin with a time jump, skipping over the summer and jumping right into the new school year. With Otis enjoying casual sex and Eric beginning a relationship with Adam, the students have been active during the summer. Maeve is hanging out with Issac, who hasn't told her about deleting Otis' confession voicemail, and she hasn't heard from Otis in a long time. Jean is heavily pregnant and has yet to inform Jakob.
The youngsters are also coming to a different Moordale, where media have set up shop outside the "sex school," as it has been dubbed. Hope Haddon, a high-achieving former student, is the new head teacher, and she wants to return the school to its former glory. Regrettably, this entails eliminating all traces of sex, personality, and fun at school, with official images depicting students in new school uniforms.
The cast and crew haven't revealed many specifics about the new season ahead of its launch, but despite the pandemic, filming appears to have gone as smoothly as it did in previous seasons. "I think one of the reasons [the show] has done so well is that everyone is just having a good time," Asa Butterfield told ELLE. The ability to play with the language, experiment, and be a little ridiculous as actors—these are the magical moments that you can't write into a screenplay. And I believe that elevates the show."
Who's in the cast of Sex Education season 3?
Season 3 will see all of the show's diverse ensemble return, and the show will continue to juggle several storylines in a seamless manner. Girls actor Jemima Kirke joins the season as Hope Haddon, the new head teacher who proves to be a tad autocratic in her reign over the school.
In her first recognised television role, recording singer Dua Saleh will play Cal, a nonbinary student who befriends Jackson. Jason Isaacs, who played Mr. Groff's more successful older brother in Harry Potter, and Indra Ové, who played Elsie's new foster mother in Resident Evil, are among the other new arrivals.
Where is Sex Education filmed?
Sex Education is largely filmed in South Wales.
The majority of the Moordale High School scenes were shot at Caerleon Campus, which was once one of the University of Wales' Newport buildings. The Paget Rooms in Penarth, on the other hand, was used to film the gym sequences. In addition, parts of the season 2 sports sequences were filmed in the Cwmbran Stadium and the Newport International Sports Village.
The magnificent outdoor images were largely shot in Gloucestershire's Wye Valley and Forest of Dean. Llandogo and Tintern, both in Monmouthshire, have also been mentioned.
Last word
Netflix in the UK has given each episode an 18 rating due to heavy sexual references in each episode. From September 17, Sex Education season 3 will be accessible on Netflix. Seasons 1 and 2 of Sex Education are now available on Netflix.
So grab some popcorn with your lover, turn on the TV or laptop, get some protection and an energy drink, and prepare to have an incredible weekend as sex education season 3 will surprise you.